Pirate Logistics:
One Year Later
by

Sharmi Duncan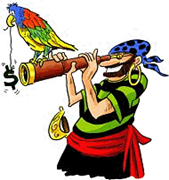 In the first article I wrote for this website, I described the logistics of pirating, specifically the science behind pulling together the annual Gasparilla Pirate Fest. It is now a year later, and this weekend kicks off the 2012 parade season. It starts with the Children's Parade and Piratechnics Extravaganza, a tamer, more family-friendly parade before next week's shindig.
A lot has changed since last year…
Let's begin with the nine stages in the business lifecycle.
⦁ Birth: at this stage there is significant risk.
⦁ Infancy: the race for survival. Cash is tight.
⦁ Toddler: at this stage, the business is starting to grow, the staff begins to grow as a team, and everything is moving fast, just like when a toddler begins to walk and talk.
⦁ Teenager: the "Rock 'n Roll" years. The team is getting better and has more professionals on board, cash flow is good, and there is a focus on growth. At this phase there's a lack of systems to support the business.
⦁ Young Adult: there is a focus on systems and processes, professional management teams are in place; where previously the focus was on cash flow, now there's a focus on growth and profitability.
⦁ Maximization.
⦁ Midlife Evaluation: things are starting to break down, and it's time to decide whether to rejuvenate (innovate) or age. Without innovation, death is certain. With innovation comes a rebirth.
⦁ Aging: preservation.
⦁ Death: the end of the business.
Going on its 12th year, our "Krewe" is suffering many of the same perils that businesses suffer in their lifecycle. We've hit midlife, and just as in business, things over the past year have started to break down.
I joined the Sailingest Krewe in 2000, when it was in its infancy. At the time, membership was small and there wasn't a lot of recruiting. Some of the founding members had put up the cash needed to build our own float rather than rent. The investment made sense. Rather than a recurring annual expense for a generic float, we would build an asset customized for our krewe - bathrooms, bar and sound system included. The asset would require some maintenance, but ultimately the cost of owning was better than renting. We had a vision of who we wanted to be, but our focus was on getting our most important asset, the float, built for the parade season.
During the next few years, we quickly moved through the toddler to teenager stages. We built a reputation as one of the best krewes in Tampa. We won numerous Best Float awards. We revamped our image with new customs. Membership skyrocketed. Supporting the krewe from an administrative position became more difficult, so we developed formalized membership processes, created a new website and completely reworked the bylaws. The Board of Directors and members were a cohesive team who had a strong working knowledge of the bylaws and understood Robert's Rules of Order.
During these times, I was a very active member of the krewe. I served as the Membership Chair and was responsible for redefining and formalizing the membership process. I sat on the By-Laws Committee, and even served as Commodore.
As we approached our ten-year anniversary, the krewe maximized membership. We maintained a solid mix of old and new members in leadership, which allowed us to manage the krewe in accordance with the by-laws and Robert's Rules. We were status quo for a few years—or so we thought.
In reality, things were changing. We got complacent. We continued to do the same parades every year, even though we had the option to do others. We did our monthly Meet n' Greet, where people interested could come by and meet us. It got stale, and about two years ago, we started to feel the impact. Members started going inactive or joining other krewes. This, in turn, affected our finances, since membership dues were our sole source of funding. Costs went up and budgets were cut. In lieu of the annual ball, we had a small party catered at a member's home.
Fast forward to today (2012): The crewe is going through a Mid-life crisis!
The Board of Directors lacks knowledge of the by-laws that govern the krewe. Membership is at an all-time low. The membership committee realizes that our old recruiting methods aren't working. Unless the krewe re-invents itself, death is imminent.
And me? When I evaluated the contributions I could make to the krewe and the costs to participate in the same events we've done for the past 12 years, I decided to sit this year out. I am inactive.
Then recently, something happened. I was involved in some e-mail exchanges between our organization and another krewe regarding one of the Gasparilla events. Our krewe is a host of the event, and in the last e-mail exchange, our leader apologized because we would not be participating.
The event takes place every year, but the first communication to the krewe was five days before, which left no time to promote it. It would have been a perfect recruiting mechanism, and it might've enabled us to attract new members. We should have been advertising this for months!
Disappointed and a little disgusted, I felt compelled to react because this lack of participation was a failure. By engaging in the conversation, I'd hoped to shed light on the history behind our involvement and to motivate members to rally and participate. Lastly, although I'm inactive and my time is limited, I committed myself to helping us survive.
It's time for us to innovate. We've weathered rough times before. I know we can do it again.
ARGH!