WMS and Picking
by

Don Benson

This series of articles reflects our experience working with managers and helping them use their warehouse management systems (WMS) to improve the productivity and performance of their warehouses and distribution centers — particularly in adapting operations to improve results while handling increasing and fluctuating demand and changing requirements.

As companies experience success and the challenges of increasing sales, inventory, and competition, warehouse management systems become valuable tools to sustain and improve operations results. We offer the articles in this series to provide a broad description of these systems in order to help users understand them and continue to realize value from them over time.

This article describes how a WMS contributes to the economic value of the company's warehouse operations, specifically in the picking area. The WMS can improve productivity and raises the quality of the direct labor in the warehouse. This contribution is supported by two components:

⦁ A powerful database, to support the application of a wide variety of labor-saving technologies

⦁ The ability to apply a variety of operating methods and procedures to meet the needs of virtually any application.
Labor Saving
Picking labor productivity is directly a function of the design of the warehouse layout, the selection of handling and storage equipment and systems, and the picking process (methods and procedures). Some of these elements can be implemented before the installation of a WMS, and this early installation will contribute to more effective WMS utilization.
Warehouse Layout
The design of the physical warehouse layout should include:
⦁ Specific areas, based on the requirements for each stock-keeping unit (SKU), by type of -
⦁ Storage area — frozen, wet, inflammable, high value, yard, etc.
⦁ Handling — pipe, two-person pick, etc.
⦁ Specific areas for picking within each storage or handling area, based on order characteristics for picking, e.g., the unit-of-measure for the SKU to be picked, including -
⦁ Less-than-case, each, or unit quantities (typically requiring repacking for shipping)
⦁ Full case quantities
⦁ Pallet quantities
⦁ Material handling equipment to support picking each area, e.g.,
⦁ Repack pick using a cart
⦁ Case pick using a pallet jack
⦁ Pallet pick using a forklift
⦁ Logical location numbering system (see our article on this here)
⦁ Organization of storage aids to optimize the distance traveled within each pick area.
WMS Enabled Equipment and Systems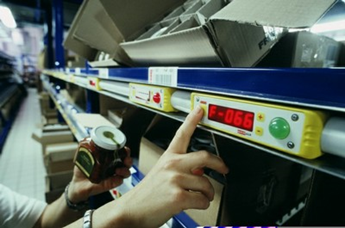 The material handling industry continues to create sophisticated individual types of equipment and systems, which are enabled by a WMS, to improve picking productivity. Many of these can be combined to achieve even greater productivity. These technologies are often considered in the design of the warehouse, and included where financially justified. Technologies include those that:
⦁ Communicate and control the picking task by providing explicit direction to the pick person via portable data terminals, interactive voice, and pick-to-light modules, and by controlling the quality of results with various forms of automatic identification (e.g., bar code scanning, etc.)
⦁ Reduce or eliminate picker travel time by bringing the appropriate merchandise to a picking work station with carousels, mini-load systems, or robots, and to shipping docks with conveyors, sortation systems, robots, etc.
⦁ Perform the picking, packing, and shipping processes using automatic systems without any human participation.
We will describe these technologies further in a separate article in this series.
Picking Labor Saving Methods and Procedures
A WMS can organize and optimize picking with one or a combination of processes. These processes and their fundamental characteristics support:
⦁ Order picking — a picker selects the material/merchandise for a single customer order as a part of single trip through the picking area of the warehouse.
⦁ Batch Picking— a picker selects the material/merchandise for a group of customer orders as a part of a single trip through a picking area of a warehouse. Batch picking requires a second process step to sort the picked material/merchandise into single customer orders for shipping.
Order Picking
The Order Picking process is the basic method applied in almost every warehouse. Warehouse Management Systems can improve order picking labor productivity in several ways. Examples include the ability to:
⦁ (Re)organize the customer-ordered SKUs into a list that directs the picking activity in a location sequence to minimize picker travel time
⦁ Divide a customer order into groups to direct the picking by storage type (frozen, wet, inflammable, yard, etc.), and/or handling type (pipe, two-person, etc.), and by ordered quantity (repack, case or pallet, etc.). This process supports the simultaneous picking of several parts of an order. Even after including the labor time to combine or assemble the picked material into a complete customer order prior to shipping, the resulting total productivity will be higher than what might be achieved by having one person perform all the work for all storage areas, handling types, and quantities.
Batch Picking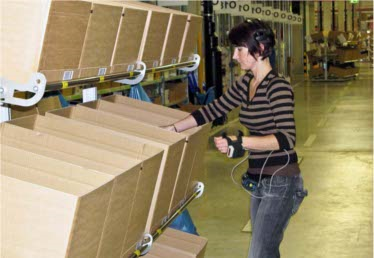 Batch picking is difficult or impossible to do without the support of a WMS. Warehouse management systems make it possible to separate the customer-ordered SKUs and quantities as described for order picking for a group of customer orders and combine them into batches for each of the pick areas. This process enables pickers to visit a SKU-picking location one time in a batch and pick the total ordered quantity. Subsequent process steps then support the batch picking by sorting, packing if necessary, and combining SKUs by customer order for shipping
In warehouses with sufficient daily picking volume, the resulting total handling cost per unit picked (including human and material handling equipment) will be much lower than if each order is picked separately.
The development and implementation of technologies to support the batch picking of repack (unit) quantities has become very important with the growth of e-commerce. The process for creating the batches and directing repack picking is similar to the process for batch case picking. With repack units, however, there are several process and handling options to recreate individual orders:
⦁ Batch pick SKUs into totes (one or more SKUs per tote), transport tote to a sort/distribution "put-wall" that looks like a wall of mail boxes, where the merchandise is manually sorted into boxes by customer order. Completed orders are then removed from the opposite side of the "put-wall," packed, and shipped.
⦁ Batch pick SKUs and manually sort to a "put-wall" mounted on a cart. Transport the completed batch cart to a packing station.
⦁ Batch pick and directly sort into customer order/shipping containers on a cart. Typically these carts contain four to six containers. When a Batch is complete, the cart is transported to a packing station
The capacity of a WMS to support batch picking requires the user to develop criteria for the gathering of customer orders into batches. That process was initially handled with the concept of wave pick and load (WPL). WPL was developed as a management process in a WMS to organize the flow of order processing flow, sequencing groups of orders to minimize the accumulation, assembly, and loading space required on a shipping dock. For example, sequencing the customer orders for a set of route delivery vehicles in reverse stop sequence, or for a group of scheduled common carrier pick up times, etc. The size of the wave is then consistent with the equipment and space allocated for that process. This process has proven effective with conveyable cases. The total ordered quantities of conveyable case SKUs within each wave are combined for batch picking onto a conveyor, transported to a shipping dock, and then sorted to spurs by route.
The batching logic for repack reflects the same need to size the batch similarly, specifically limiting the size of the batch (number of orders, number of pieces, volume, etc.) to the effective handling capacity of the downstream sorting and packing processes, e.g.,
⦁ The number of bins and physical size capacity in a put-wall (free-standing or cart)
⦁ The number of order totes a cart can hold.
Summary: The Choice Is Yours
With increasing sales and shipping requirements, increased competition, changing customer requirements, and smarter systems and associated technologies, a WMS becomes an even more powerful tool for planning, organizing, directing, and controlling the picking function. The ability to unbundle and re-bundle customer orders — and to work with other technologies, methods, and procedures — can support management's need to handle the increasing workload, significantly improve picking labor productivity, and increase the shipping capacity of a warehouse.
Improving results and handling changing customer requirements with a WMS requires a well planned layout, appropriate technologies, new methods and procedures, and most important, the human understanding and skill to use the WMS. Using a WMS to achieve these outcomes over time requires practice, with managers, planners, and supervisors working toward a common objective.
Don Benson, also known as The Warehouse Coach, is a systems thinker who has been bringing ideas, people, and organizations together to achieve their desired outcomes with Warehouse Management Systems for over 35 years. You can reach him at www.wmssupport.com.