A Different Take on Air Guitar
Who said that American ingenuity is gone? Have you ever seen an industrial-strength air guitar?
One of the areas of study I followed when I went back to college was fluid power. Compressed air is a fluid power, as is hydraulics. The brake system in your car is an example of an everyday fluid power system. Where hydraulics can transfer impressive power in pressure, air is great for the transfer of the lightest of power, when control is more important than power.
I remember using Clippard miniature air valves and cylinders in several college projects in the fluid power lab. They were little gems of machines, tough enough to take the everyday abuse that a bunch of college-age future industrial engineers and industrial managers could dish out. I took both fluid power and advanced electronics controls the same year, and while my projects in electronics did not always work the first time, the fluid power projects always did.
I hadn't thought about the Clippard Minimatic parts until an old friend posted a link on Facebook. As soon as I pulled up the web site I remembered the fun I'd had with air logic and controls.
Leonard Clippard founded the Clippard Instrument Laboratory in Cincinnati, Ohio in 1941. The company made electrical devices and test equipment. Clippard started to develop miniature air cylinders and valves to use in machines that made the wiring harnesses, windings, and coils. No other product like this existed in the industrial marketplace, and in the 1950s, Clippard introduced the Minimatic® miniature pneumatics product line.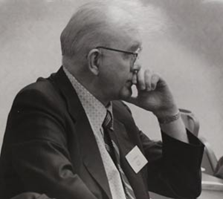 Clippard discovered a true Blue Ocean market, and it was years before real competition appeared. Lenard Clippard retired in the 1970s, passing the company on to his sons William (Bill) L. Clippard III and Robert (Bob) L. Clippard. Leonard remained active in research and development in miniature pneumatics after he retired.
The company is recognized as a world leader in manufacturing miniature pneumatic components and devices. The two sons are still leading the company, William as President and Robert as Executive Vice President. The third generation of the family is stepping up to take over the company, as three of Leonard's grandchildren now serve as Vice Presidents of the company.
Okay, so what about the air guitar? I always love when companies do something different with their trade show booths. The recent ProMAT show was not as exciting to watch as the Automate show across the hall. While there were some cool machines on display at ProMAT, I was underwhelmed by the lack of creativity in the display of the machines in action. Across the hall at Automate things were a bit more exciting. In one booth robotic arms competed in various welding and assembly contests, while a massive arm ran through a weight-lifting routine using a railroad car wheel set as the barbell.
Which brings me to the Air Guitar. One of those three grandchildren is Robert Clippard, the VP of Sales. He shares my belief that a trade show is the place where a manufacturer can demonstrate their product in a entertaining and imaginative way.
So I am pleased to introduce the Clippard Automated Air Guitar.
In the video below, Lee Teschler, Editor-in-Chief for Machine Design magazine, interviews Robert Clippard about the pneumatically controlled guitar. Designed to to demonstrate the capabilities of Clippard's pneumatic valves and cylinders, the Automated Air Guitar uses 58 valves, 62 cylinders, a 128-channel board MIDI relay, an OSC/MIDI translator and an iPad to play over 20 different songs on this Ovation acoustic guitar.